Primordial Light: Phylum Arthropoda Page 2
Consider this from "The Insects" Fourth Edition, by Gullen and Cranston: "Some estimates... imply that, to a near approximation, all organisms can be considered to be insects;" i.e., there are so few other animals on earth relative to the population of insects (and other land arthropods), that the rest of us do not count, statistically.

June 26, 2011: My weather still is not suitable for astrophotography, so I continue to photograph bugs, flowers, and whatever else I can find in nature. I like being able to produce decent photos without staying up all night and then spending hours in post-processing!
The photos on this page were all made with a Canon 5D Mark II 21-megapixel DSLR with one of two Canon macro lenses: a 100mm or a 180 mm. All were made with electronic flashes—either a Canon Ring Lite (most of the 100mm photos) or a Canon Speedlite 580EX II with a Gary Fong diffuser. I'm just now beginning to use a new versatile and lightweigh carbon-fiber tripod, a
Gitzo GK2550XQR Explorer.
• Many of my recent photos may also be seen on my Flickr page at
http://www.flickr.com/photos/primeval.
• I am pleased that some of these photos have been accepted for use on the Encyclopedia of Life site at
http://www.eol.org.

• Some of my arthropod photos may be seen at Bug Guide
http://www.bugguide.net.
• I owe the people at Bug Guide a debt of gratitude for helping me identify many of the species that I have photographed.
Polistes dominula, European Paper Wasp, June 17, 2011
The group in this photo includes a "foundress," or queen, who has deposited ova in the brood cells. The foundress is accompanied in capping the brood cells by five assisting females. The "paper" is plant fiber mixed with saliva. The European paper wasp was introduced into North America in New Jersey in 1968. That this is an invasive species is unquestioned, but whether it is a pest, as some assert, is not so clear. The adults eat nectar, i.e., they are pollinators. They feed caterpillar parts to their larvae. This nest is under an overhanging shingle outside the screened area of our deck, where it will remain undisturbed. Wasps are generally non-agressive unless strongly provoked; I was very close when I made this photo and the animals paid me no notice.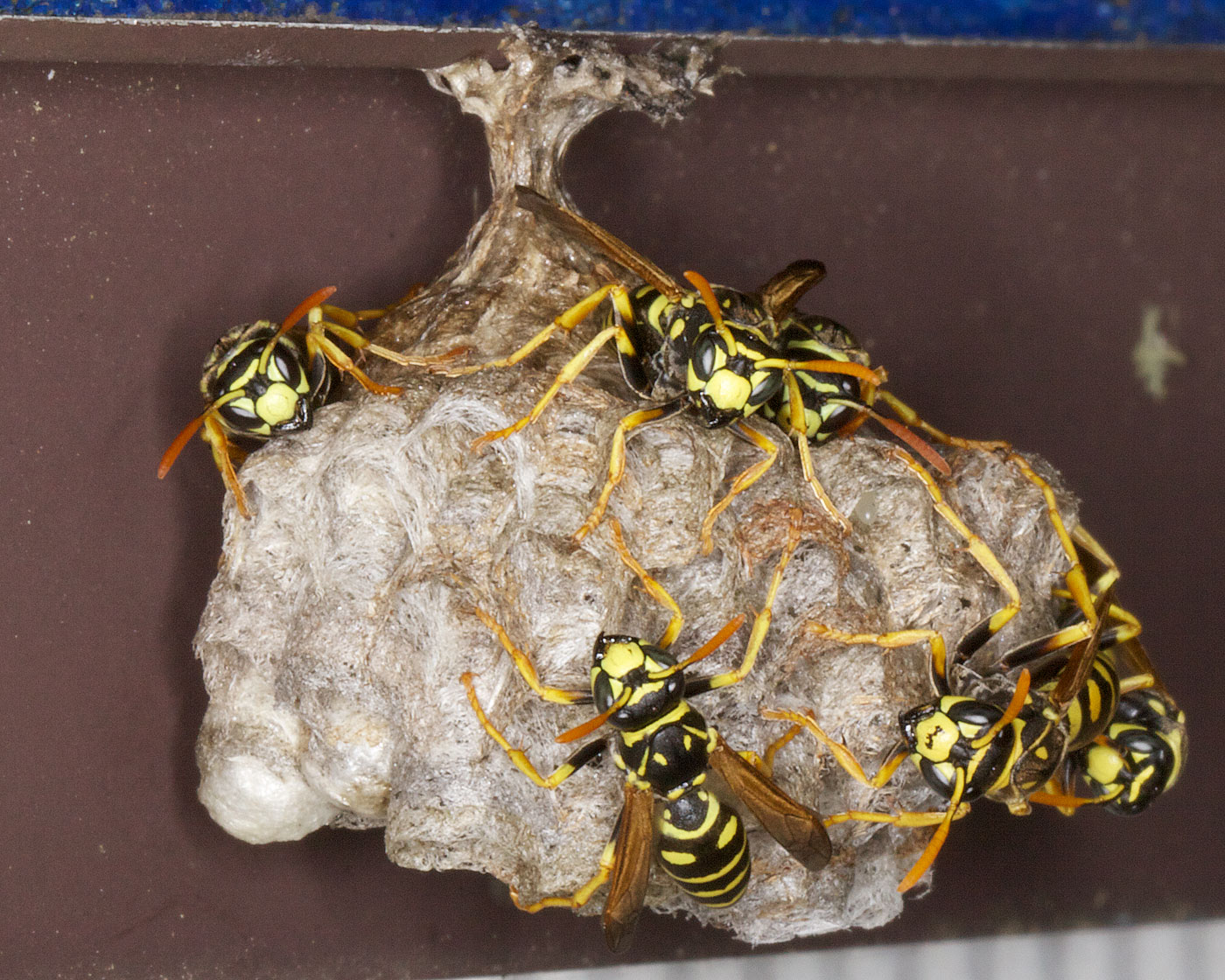 ---